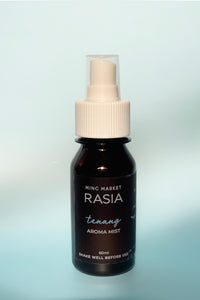 RASIA's handmade aroma mist will give you a therapeutic experience with its blend of essential & aroma oils. Spray TENANG around your room, linen or pillow for that relaxation feel that will drift you to a peaceful slumber.
TENANG
A blend of Ylang-ylang & Jasmine essential and aroma oils.
Safe to be used on skin.

Discontinue use if irritation occurs.
Shake well before use.

60ml
*RASIA HANDMADE BODY CARE ITEMS CANNOT BE SHIPPED INTERNATIONALLY.