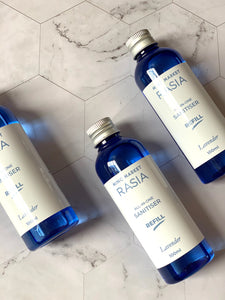 Don't need to worry about running out of sanitisers! Refills for our very own handmade hand sanitiser is now available. Fills up 3 bottles of our 30ml hand sanitisers. Just fill up the 30ml sanitisers you have with you and you'll always be prepared to get going.
Blended with essential oils and the best-smelling aroma oils, our sanitisers contain 70% alcohol that can kill bacterias and germs. Gentle on the hands, spray RASIA's sanitiser on hands and surfaces or even as deodoriser to uplift your surroundings. We were told they smell divine. You'll love it! *Kindly allow 2-3 days to prep as we make these fresh for you.
• 100ml per bottle, fills up 3x 30ml RASIA handmade sanitiser.
• Available in Green Tea and Lavender.
• Ingredients: Essential oils, aroma oils, alcohol denat.